&nbsp National Service Scheme (NSS)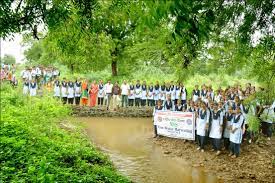 National Service Scheme, Popularly known as NSS is an extension of activities to the higher education system to orient the student youth to community service while they are studying in education institutions, under the aegis of Ministry of Youth Affairs & Sports, Govt. of India.

The Motto of the National Service Scheme is "NOT ME BUT YOU".
The main objectives of National Service Scheme
To understand the community in which they work.
To understand themselves in relation to their community.
To identify the needs and problems of the community and involve them in problem-solving.
To utilize their knowledge in finding practical solutions to individual and community problems.
To develop a sense of social and civic responsibility.
To develop competence required for group-living and sharing of responsibilities.
To gain skills in mobilizing community participation.
To acquire leadership qualities and democratic attitudes.
To develop capacity to meet emergencies and natural disasters.
To practice national integration and social harmony.
Innovative and regular Programs
Participation for social benefit in plantation, Health, Blood Donation and Blood Group Dentition.
Participation in activities organized by police administration.
Organization of Water Awareness Week for water conservation and management.
Organization of International Yoga Day since last three years.
Organization of Tree Plantation programme every year.
Organization of Orientation Program for NSS Volunteers every year.
Organization of Youth Health Education and awareness Programme.
Organization of Blood Donation camps.
Organization of No Vehicle Day.
AIDS awareness programme.
Organization of awareness rally for Pollution free Ganesh & Dewali Festival.
Organization of Voters awareness programme.
Participation in Pulse polio programme.
Participation and Organization programme in Swaccha Bharata abhiyan.
Celebration of Birth anniversaries and Death anniversaries of National leaders.
Organization of Special Youth Camp Every Year.


Units: 02
Volunteers: 200
Program officers: 02
Name of Program officers
Dr. Hanumant A. Bhosale
Dr. Neeta B. Boche
| Year | Adopted Village | Duration | Volunteers | Constructive work |
| --- | --- | --- | --- | --- |
| 2017-18 | Rahud | 30th December 2016 to 06th January, 2017 | 100 | Mud Dam |
| 2016-17 | Rahud | 06th to 13th February, 2018 | 100 | Mud Dam & Soak pit |
| 2015-16 | Garadgaon | 15st to 21st December, 2014 | 100 | Soak pit & Village Cleanliness |
| 2014-15 | Garadgaon | 21st to 28th December, 2014 | 111 | Kolhapuri Dam by using cement bags |
| 2013-14 | Garadgaon | 13th to 20th December, 2013 | 111 | Water Conservation & Cleanliness |
Special Programs
District level Disaster Management Training and Selection Camp:It was organized in collaboration with Students welfare department, SGB Amravati University, Amravati last three years in our college by NSS. Various activities covered under this two day camp were fire fighting, rescue operation during flood and smoke, rope climbing, etc.


District level Special Youth Camp:
It was organized in collaboration with Students welfare department, SGB Amravati University, Amravati last three years in our college by NSS.


One day District level Workshop on Mental Health and Stress Management:
On the occasion of World Mental Health Day, 10 Oct., 2017, Renowned Psychiatrist- Dr. Shrikant Bobade and Dr Meena Bobade from London guided the NSS volunteers all across the district for global mental health education, awareness and advocacy against social stigma.
Students Achievements
| Year | Student Name | Place |
| --- | --- | --- |
| 2017-18 | Anup Deshmuk | Dr. BAMU, Aurangabad (M.S.) |
| 2017-18 | Madhuri Pawar | Dr. BAMU, Aurangabad (M.S.) |
| 2017-18 | Akshya Jadhav | Dr. BAMU, Aurangabad (M.S.) |
| 2016-17 | Anup Deshmuk | Shivaji University, Kolhapur |
| 2016-17 | Renuka Deshmuk | Shivaji University, Kolhapur |
| 2015-16 | Payal Chimkar | Solapur University (M.S.) |
| 2015-16 | Pooja Nikode | Solapur University (M.S.) |