&nbsp
&nbsp NATURE'S CLUB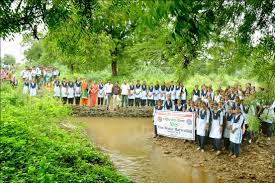 The G. S. College Nature's Club was inaugurated in the year 2000 under the guidance of Dr. B. W. Sawarkar, then Head, Department of Zoology and former Principal of our college with the slogan 'Save Nature, Save Mother Earth', and to make the students aware of the current situation of nature, environment, man and the entire ecosystem.
The main objectives of Nature's Club
To create awareness among society about environment and related issues.
To make them understand the surrounding environment and preserve Nature for coming generations.
To Motivate & aware about the grave situation of nature and means for its conservation.
Encouraging efforts to protect and conserve biodiversity in vicinage.
Activities run and conducted regularly by Nature's Club
Yoga Day
Adopted Village
National Integration, Annual Training, Leadership, Army attachment, Trekking, Mountaineering, Thal sainik, Republican day Camp
Swachata Mission
Blood donation Camp
Pulse Polio awareness and immunization
Tree Plantation
Disaster Management
Adventure programs
| Name | Designation |
| --- | --- |
| Dr. G.B. Kale | President |
| Prof N.B. Kutemate | Vice President |
| Ku. Harsha Gade | Secretary |
| Ku. Tejal Jawanjal | Treasurer |
| Prof S.N. Ghait | Co-ordinator (Activities) |
| Prof S. M. Pidhekar | Convener, field visit etc. |
| Mr. Shiva Vairale | Snake recue |
| All the students of B. Sc. I, II, III and M. Sc. I and II (Zoology) | Members |
&nbsp